Metro's SW side in the near future will have a direct Max line to downtown Portland. How will it affect the South West side's property value? The new line will run from Portland through Tigard to the Bridgeport Village in Tualatin. This is intended to help with the projected continual traffic increase into Portland.

When the Max was being extended out to Milwaukie with the orange line a couple of years ago it quickly affected the real estate market. The homes near the line saw an immediate jump in value as the orange line neared completion.
The orange line was built through an area that had a lot of homes that were perfect for starter homes. It allowed people priced out of Portland proper market to purchase a home and have a convenient way to work.
Will this happen in the SW Metro area? Even though Metro tried to minimize the disruption of the proposed route, hundreds of home and businesses will need to be acquired by eminent domain. This will put a slight demand increase on the real estate market as those displaced home owners will need to relocate, but it will be done quickly.
I believe we will see a more slower impact on the area initially. We have less neighborhoods that have what is considered entry price points for the typical buyer of starter homes. So, we are less likely to see a big change in that end of the market like the Milwaukie area did. The value should increase gradually as buyers in middle priced homes start to see the value of this new transportation option.
We will more than likely see a decrease in value of homes near the line that are currently valued at $500,000 or above. These are not traditionally considered starter homes. This range of buyer tends to be more established and may find Max lines in their immediate area to be a big negative. Buyers will likely have the "not in my neighborhood" mind set when home shopping. The sellers may see an immediate effect on their value when the line opens because of this. The buyers in this price range are also less likely to initially use the new Max line. In time this will change and they will start to use Max as the commute to work becomes more and more of a pain.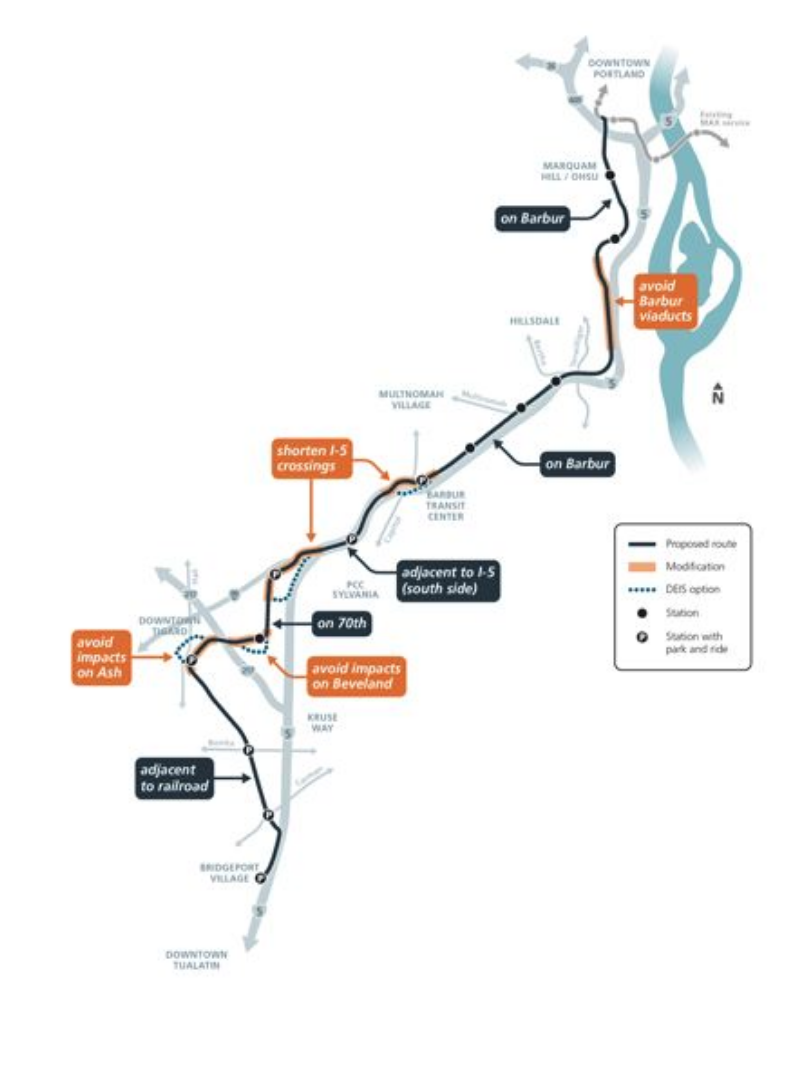 It took more than 7 years for all of the governing committees to agree on a proposed path for this Max line They considered over 60 routes before they selected this one.
The new Max line will take the following path:
It will start at The Portland Transit Mall on Barbur Boulevard. It will cross over to the I-5 on a new bridge.
It will run next to I-5 until it reaches Tigard. It crosses 217 near Hall overpass.
It will run on 70th Ave. in Tigard until it meets Elmhurst St.
It will then run parallel to the railroad tracks until it reaches Bridgeport Village.
There will be busses add to connect to Portland Community College (PCC) Sylvania campus.
The trains will be 2-car trains that will run on a 7 to 15-minute frequencies. Over a dozen stations are proposed. Up to seven of them will be park and rides. They are estimating 4200 parking sports.
There will be a Marquam Hill stop that will allow for a pedestrian connection to OHSU.
The estimated cost of the new line is running between $2.6 to $2.8 billion. They are looking for the federal government to pay for half. The rest would come up for vote on the 2020 general election ballot.
Mayor John Cook of Tigard and Mayor Lou Ogden of Tualatin both have concerns about the new line. They are not against it, but their concerns are more centered around how and where certain stops will be built.
Only time will tell if this new Max line will be a success, but we all know traffic isn't going to get any better going out to the West side. For more information got to…
https://www.oregonmetro.gov/public-projects/southwest-corridor-plan